Remember When Cameras Had Film?
Years ago I took a darkroom photography course at Lehman College in the Bronx. Every few days we would get an assignment to shoot an entire roll of black and white film within some artsy framework. Film then came in rolls of 12, 24 and 36 frames and for class we usually shot a roll of 36 pictures. We then developed our film and printed them in the darkroom.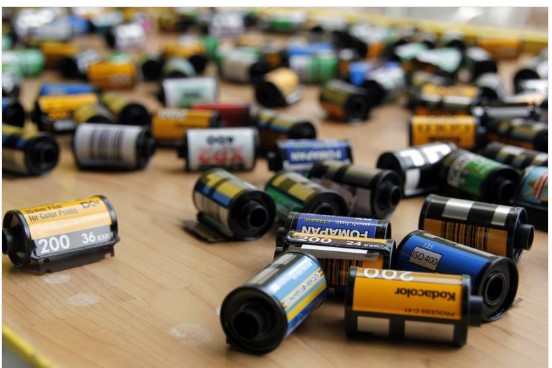 One day my professor, based on a comment I had made, suggested that I shoot an entire roll while standing in one spot. I could, of course, turn 360 degrees but I had to pick my spot and stay there. Fortunately, my garden was developed enough that the assignment was not overwhelming. Essentially, it was an exercise in seeing.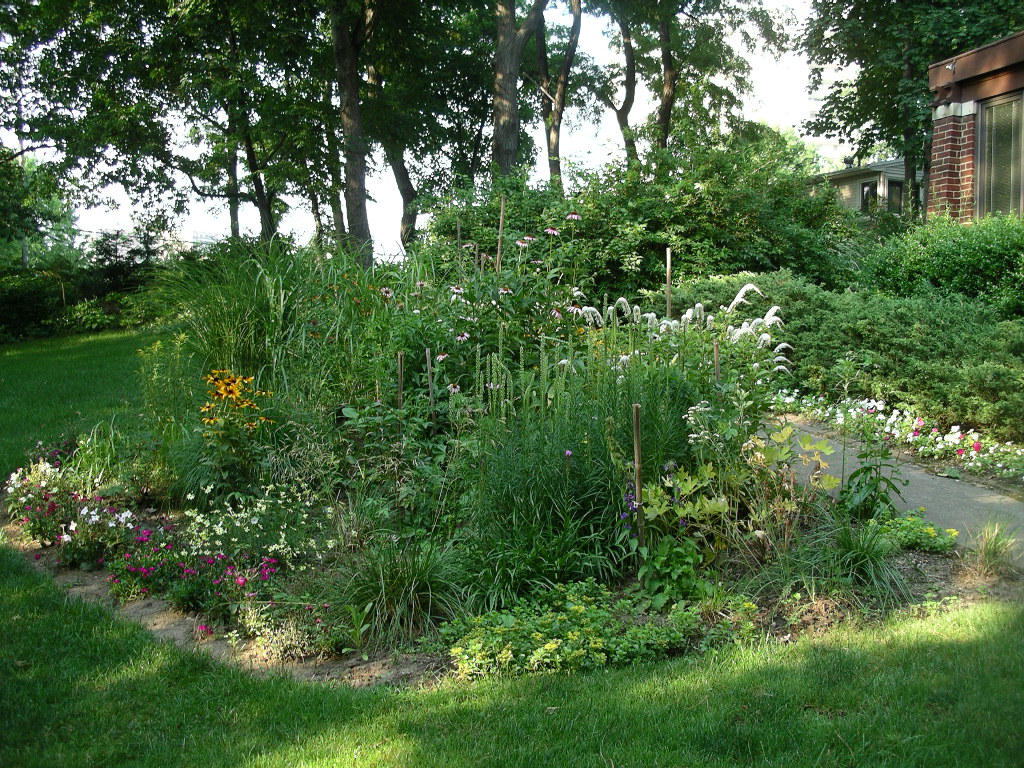 Active seeing is also  part of the gardening process. Gardens are constantly evolving. The amount of light available to the plants changes with the growth of surrounding trees. Even with irrigation systems, regular rainfall is vital. Some plants thrive while others insist on dying despite TLC. Some plants become invasive and need to be tamed. The insect factor and the presence of various voracious critters limit options.
Nonetheless, even in small gardens, the unexpected happens.
Along the border of our property, there are several tall cedars. I pass them regularly walking from the backyard to the front but they rarely impinge on my consciousness. A few weeks ago that suddenly changed.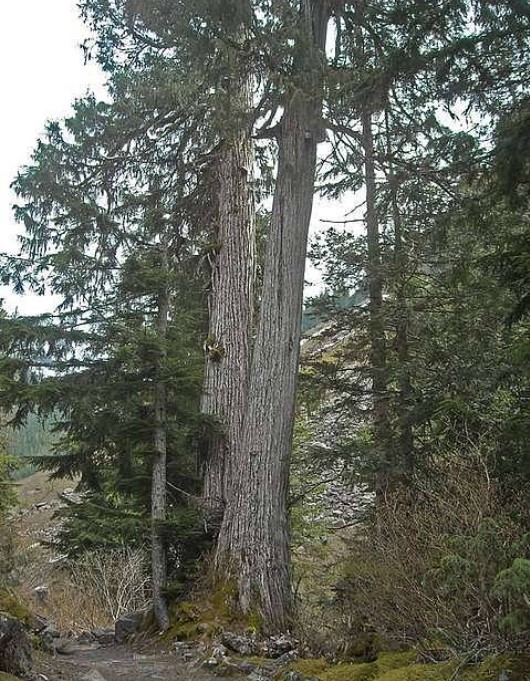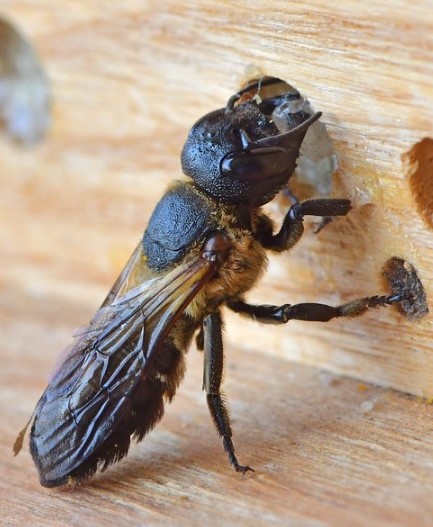 I was walking along and suddenly realized that there is a swarm of large bees in front of me. I stood stock still and just stared. They were all busy entering and exiting a hollow of the cedar located at eye level. Generally speaking, my experience with bees is that if you move slowly, they may ignore you.  Since I was already quite close, I chose to move towards the tree cavity and peer inside. The bees were clearly attracted to the area but I could not see them actually doing anything. They just seemed to enter, flutter around for a few seconds and fly out again.
Although they were almost constantly in motion I did manage to get a few photos which I uploaded to iNaturalist. The identification quickly came back that my new neighbors were Megachile sculpturalis. The common name is giant resin bee and sculptured resin bee and they are members of family  Megachilidae. The name is derived from ancient Greek where mega means large and kheilos means large lips. This refers to their lips and jaws which are necessary to building their nests.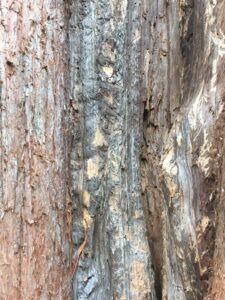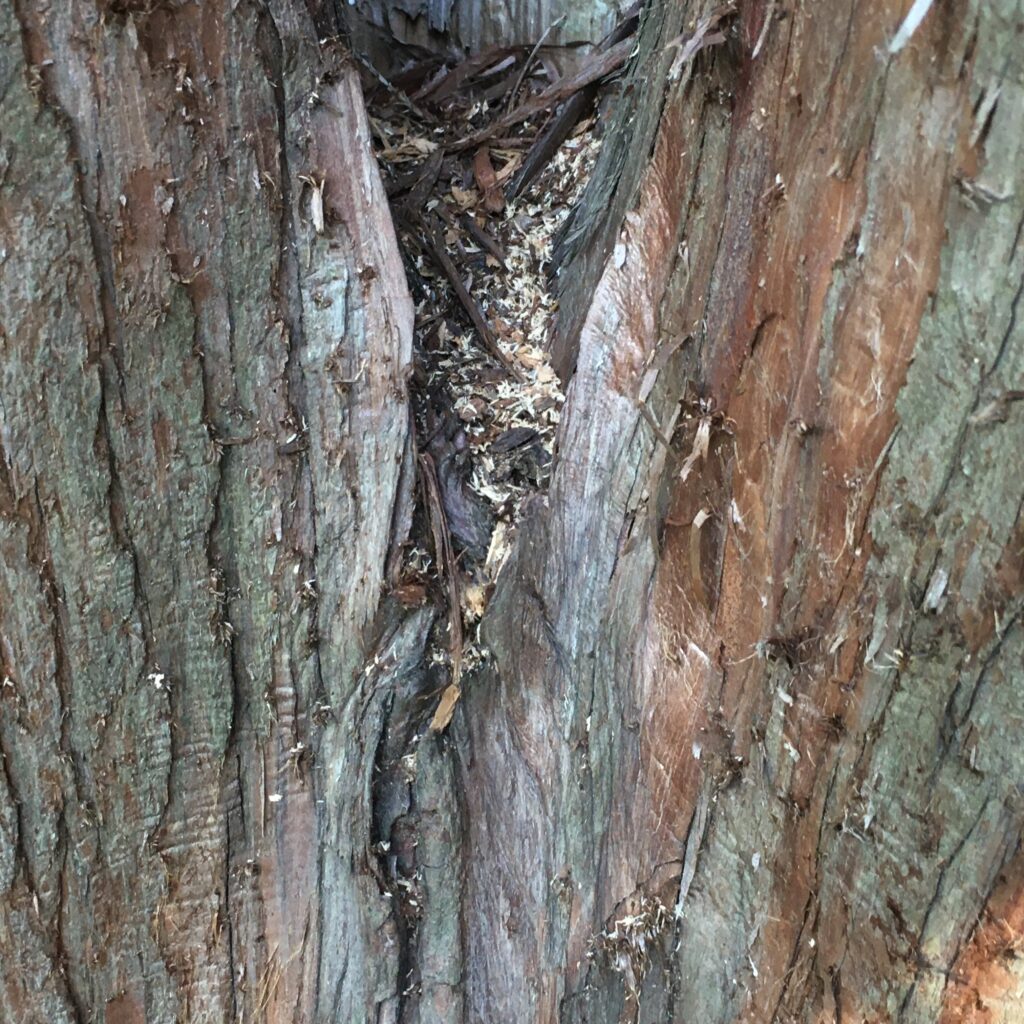 Although native to China and Japan, our Megachile is established in the Eastern United States and was introduced in 2009 to Europe. The bees are quite large – the males approximately ¾ of an inch while the females are almost an inch long. While males cannot sting, females can but they are not aggressive. They are solitary meaning that they do not live in hives with a queen and the division of labor familiar to us from honeybees. Adults can be seen from June through September.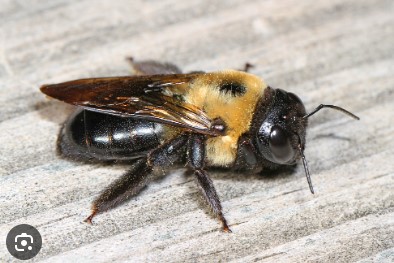 The females lay their eggs in wood cavities. These may be in tree cavities or they may commandeer wooden cavities created by other insects such as carpenter bees. They create the brood cells using wood particles and mud. Each cell is provided with pollen and nectar and receives a single egg. Cells are created using wood particles and mud and are sealed with resin cap, resin being collected from trees – hence the name resin bees. The larvae overwinter in their brood cells, pupate in the spring and finally emerge in the early summer.
For those fascinated by bees, there are bee hotels available – similar to bird houses – to provide readymade brood cells. Care, however must be taken to keep them clean and prevent bee mites from infesting them. Since tubes in a bee hotel are much longer than a single brood cell, the female lays eggs one in front of the other sealing each cell individually. Bees at the back, however, would be blocked by bees in front of it. This problem is solved by laying female eggs in the back with male eggs toward the front. Females take longer to develop and so the front-end male cells are empty by the time the females are ready to emerge.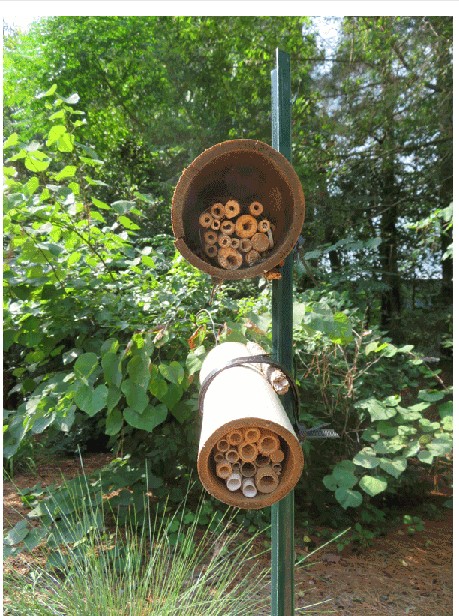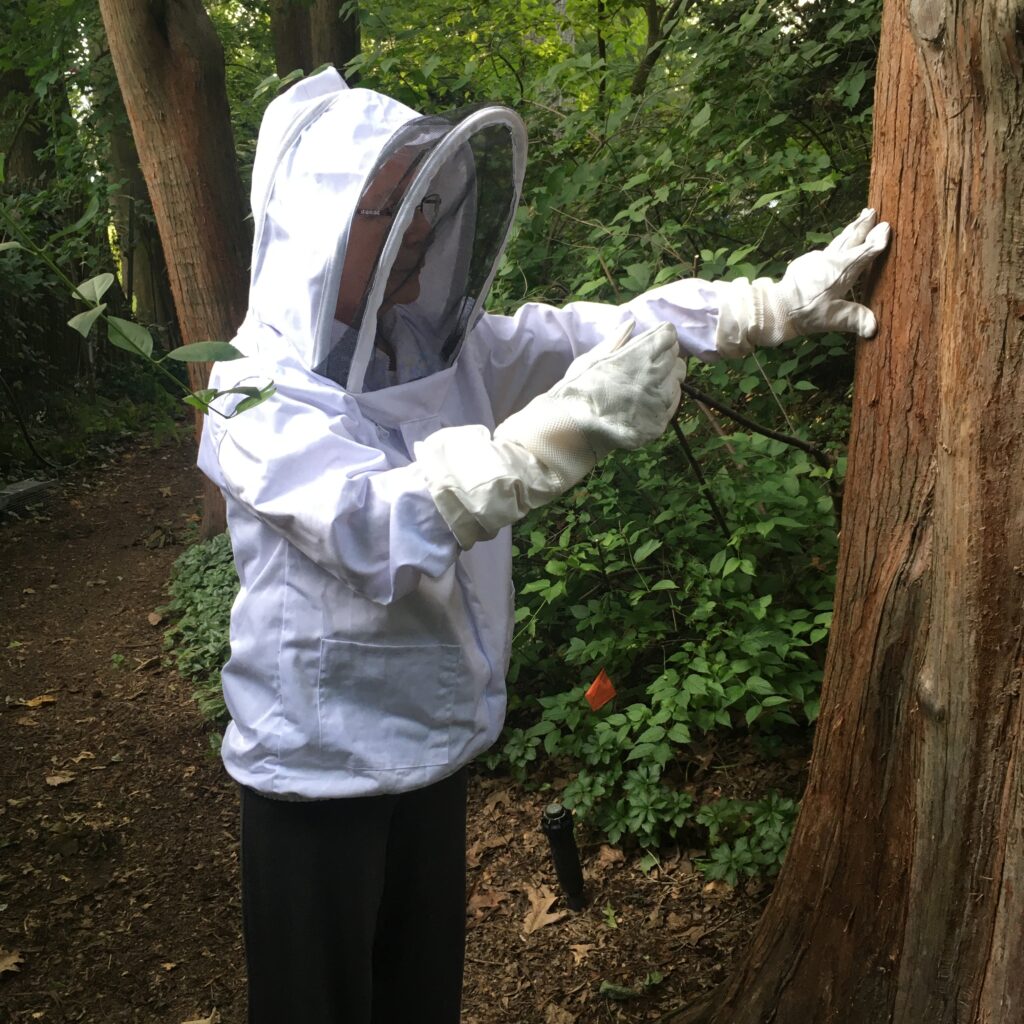 My bees kept returning to the cedar cavity for about a week. I even borrowed a bee suit so I could examine the area more closely. Despite all my efforts, if there are brood cells in this cedar tree, I have not been able to spot them. However, come spring, I will be paying close attention and see if a swarm of Megachile sculpturalis emerges.
If you have enjoyed this blog, you may be interested in my book, A Habit of Seeing: Journeys in Natural Science.